Hurricane Cindy Recalls Camille. Thursday June 22, 2017.
Whenever a tropical storm or heavy rain is forecast for central Virginia, Nelson County becomes nervous. Every year there are commemorations and retelling of the story and new stories about Hurricane Camille. Mine from 2006 is below. The Great Flood of '69. The Apocalyptic Inundation of Biblical Proportions. It's hard to exaggerate.
The Devil's Claw. The water current strips victims of all clothes and jewelry. Some naked bodies remain unidentified. Most people die of blunt force trauma, not drowning. One percent of the county's population is lost overnight literally. Boulders crush buildings, sound like thunder. Stench of decomposing animal and human bodies in the August heat. Whenever the rain falls, Nelson County thinks about Camille.
Hurricane Cindy 2017. Landfall Satellite Loop | Current Loop.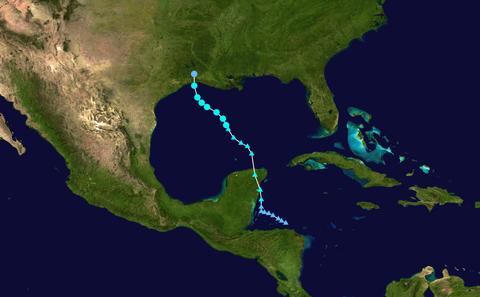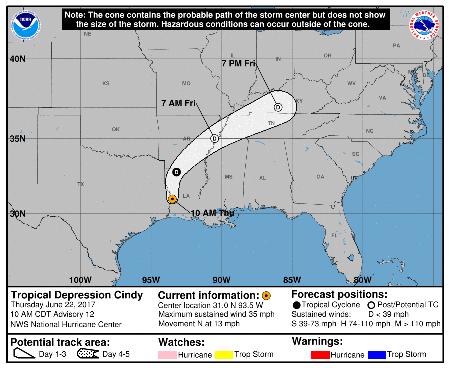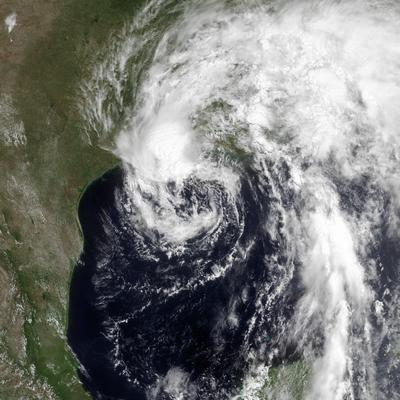 Hurricane Camille 1969. "It rained so hard, water came down the chimney and leaked throughout the house."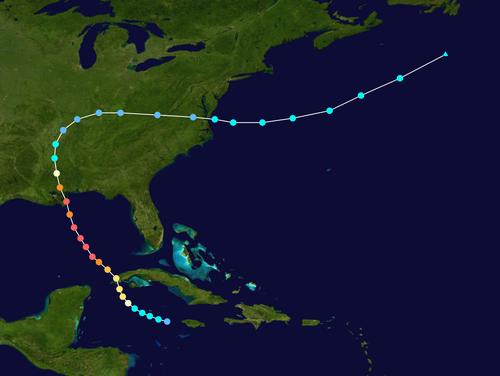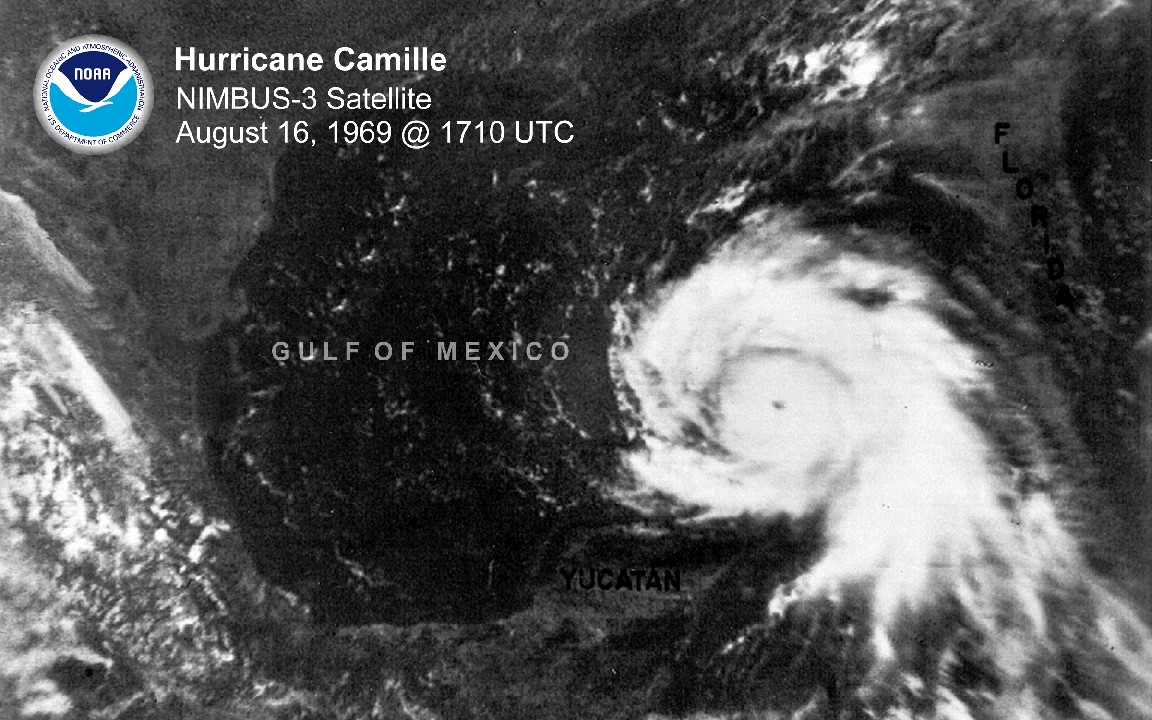 Hurricane Agnes 1972.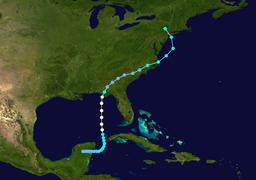 Both Camille and Agnes produced record floods far inland. Both are blamed for the eventual abandonment of the town of Columbia, now just part of the county, once considered for nation's capital. Scottsville's 44 historical floods Top Four are Camille 8/20/1969, Agnes 6/22/1972 anniversary today, Fran 9/7/1996, and heavy rain 11/6/1985. Backup Link.
Agnes showed how a tropical storm becomes extra-tropical, hurricane becomes nor-easter, warm rain becomes cold rain, circular spiral rain bands become comma-shaped with cold and warm front. Agnes broke rainfall records after she became a nor'easter. All you need is air flow from the ocean to create floods, like 1995 when US-29 was washed out in Madison County.
While tropical systems often end dry spells, central Virginia is in a wet spell like the summer of '69. Let's hope Cindy passes by with spotty showers and light rain.
Hurricane Cindy Latest Incarnation
The name Cindy has been used for 9 tropical cyclones in the Atlantic Ocean. Source
1959 Caused minor damage to South Carolina.
1963 Caused $12 million damage and three deaths in Texas and Louisiana.
1981 Formed between Bermuda and Nova Scotia, then moved east, ensuring it threatened no land.
1987 Stayed in the open sea, dissipated hundreds of miles from the Azores.
1993 Tropical depression that became Cindy crossed Martinique, killing two; as a tropical storm, it made landfall on the Dominican Republic, killing two more.
1999 Reached Category 4 but never threatened land.
2005 Made landfall near Grand Isle, Louisiana, as a weak hurricane; moderate flooding and some tornado damage reported; originally reported as a tropical storm but was later upgraded to a hurricane.
2011 Formed northeast of Bermuda and moved out to sea.
2017 Large, currently active tropical storm in the Gulf of Mexico.
Also 1998 Originally named Victor in Australia region. Renamed by Mauritius as Cindy as it passed into the Southwest Indian Ocean.
1970 Mar. 11–22. Cyclone Cindy Gulf of Carpentaria in the Australia region.
Tracks & Stats of all hurricanes all over the world and many years archived.
Most Intense Atlantic Hurricanes by Pressure.
Minor fluctuations of air pressure occur from day to day. Horizontal pressure differences cause the wind. You can think of air pressure as weight of the air. The central "eye" of most intense hurricanes lose about a tenth of total pressure, which averages at sea level 1,013 millibars (mb).
Pressure also decreases with altitude where typical air pressures at Afton crossing the Blue Ridge Mountains are comparable to the most intense hurricanes. A rapid air pressure change outside the ear drum causes your ears to pop. Gradual daily changes are not noticeable.
2005 Wilma 882 millibars. Source

1988 Gilbert 888. Central pressure of 888 mb at 00Z on the 14th [8 pm EDT 13th] making it the lowest pressure ever recorded for an Atlantic hurricane at the time. Gilbert wreaked havok on Jamaica as it went down the entire length of the island. It then hit the Yucatan pennisula shortly after recording the lowest pressure reading.
1935 Labor Day 892.
1969 Camille 900.
1989 Hugo 918. Source.
2005 Katrina 920.
1992 Andrew 922.
1886 Indianola, Texas 925.
1919 Florida Keys 927.
1928 Lake Okeechobee 929.
1926 Great Miami 930.
1960 Donna 930.
1961 Carla 931.
History of Hurricane Camille in Virginia
(At right is the Richeliu Manor Apartments in Pass Christian, Mississippi 2 days earlier.)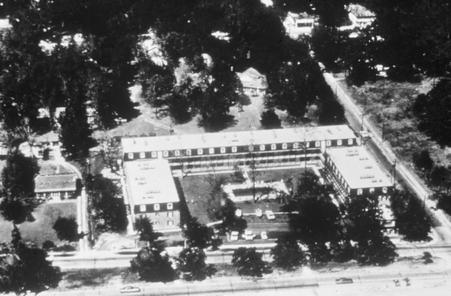 Arriving in Virginia on the evening of August 19, Camille was no longer a hurricane, but it carried high amounts of moisture and contained sufficient strength and low pressure to pull in additional moisture.
A widespread area of western and central Virginia received over 8 inches (200 mm) of rain from Camille's remains, leading to significant flooding across the state. A total of 153 people lost their lives from blunt trauma sustained during mountain slides, related to the flash flooding, not drowning. More than 123 of these deaths were in Nelson County. Debris avalanches occurred on hillsides with a slope greater than 35 percent.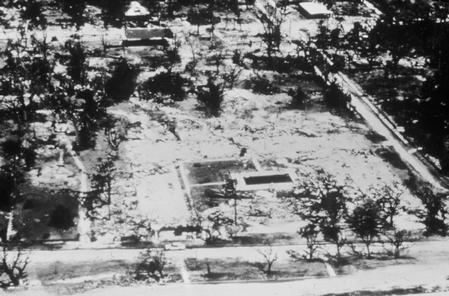 In Nelson County, the number of deaths amounted to over one percent of the county's population. The worst of the damage was reported in Massies Mill, Woods Mill, Roseland, Bryant, Tyro, Montebello, Lovingston, Norwood, Rockfish, and along the Davis and Muddy creeks. The James and Tye rivers crested well above flood stage in many areas, including a record high of 41.3 feet (12.6 m) at Columbia, Virginia. Hurricane Camille caused more than $140 million of damage (1969 dollars) in Virginia. Camille was considered one of the worst natural disasters in central Virginia's recorded history.
The storm dropped torrential rainfall of 12 to 20 inches (300 to 510 mm), with a maximum of 27 inches (690 mm). Most of the rainfall occurred in Virginia during a 3-5 hour period on 19–20 August. Five plus inches of rain fell near the North Fork of the Tye River in only half an hour with the grounds already saturated from previous rains. Many rivers flooded across the state, with the worst being the James River in Richmond with a peak crest of 28.6 feet (8.7 m). Many rivers in Virginia and West Virginia set records for peak flood stages, causing numerous mudslides along mountainsides.
In the mountain slopes between Charlottesville and Lynchburg, more than 26 inches (660 mm) of rain fell in 12 hours, but the worst was in Nelson County where 27 inches (690 mm) fell. There, rainfall was so heavy that reports were received of birds drowning in trees, cows floating down the Hatt Creek and of survivors having to cup hands around their mouth and nose in order to breathe through the deluge. Though the official rainfall was recorded as 27 inches, unofficial estimates are much greater.
Some estimate that more than 40 inches of rain fell at Davis Creek. Most gauges were washed away; however, it was reported that an empty 55 gallon drum that was not even in the center of the heaviest rainfall had 31 inches of water in it after Camille passed. "So much rain fell in such a short time in Nelson County that, according to the National Weather Service at the time, it was 'the probable maximum rainfall which meteorologists compute to be theoretically possible.' "
The ensuing flash floods and mudslides killed 153 people. In Nelson County alone, 133 bridges washed out, while in some places entire communities were under water. The major flooding that occurred downstream cut off all communication between Richmond and the Shenandoah Valley. Waynesboro on the South River saw eight feet of water downtown, and Buena Vista had more than five feet.
Throughout Virginia, Camille destroyed 313 houses, 71 trailers, and 430 farm buildings. 3,765 families were affected by the hurricane in the area, and total damage in the state amounted to $140.8 million (1969 USD, $747 million 2005 USD).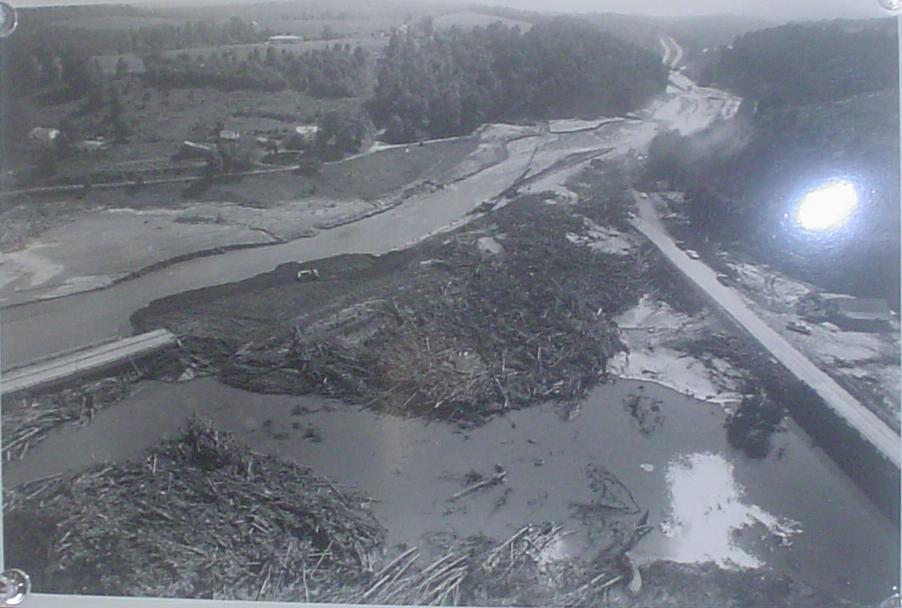 Hurricane Camille: Nelson County's #1 Story. Aug. 19, 2006.
Friday night, 37 years after the great flood 30 miles south of Charlottesville, at least two hundred people packed an auditorium to learn about the county's defining moment.
The event was held at the Nelson Center just south of the traffic light on US-29 in Lovingston. "Views of Camille: Sights, Sounds, Interpretations" was sponsored by Oakland – the Nelson County Museum of History and by the Nelson County Historical Society. The reception began at 6pm and the program at 7.
I arrived at 6:45. I knew I was in the right place when I saw the crowded parking lot. The auditorium was already filled and all seats taken as people waited for the program to begin as two slide-shows displayed photos of the disaster. There were a few cookies and carrots and one cup of punch left.
To say the least, the turnout was larger than anticipated. Even after the program began and for $10 admission, people kept arriving. People were standing along the walls and the crowd flowed into the hallway.
The first guest speaker was Tom Gathright, retired supervisor of geological mapping, US Department of Mineral Resources.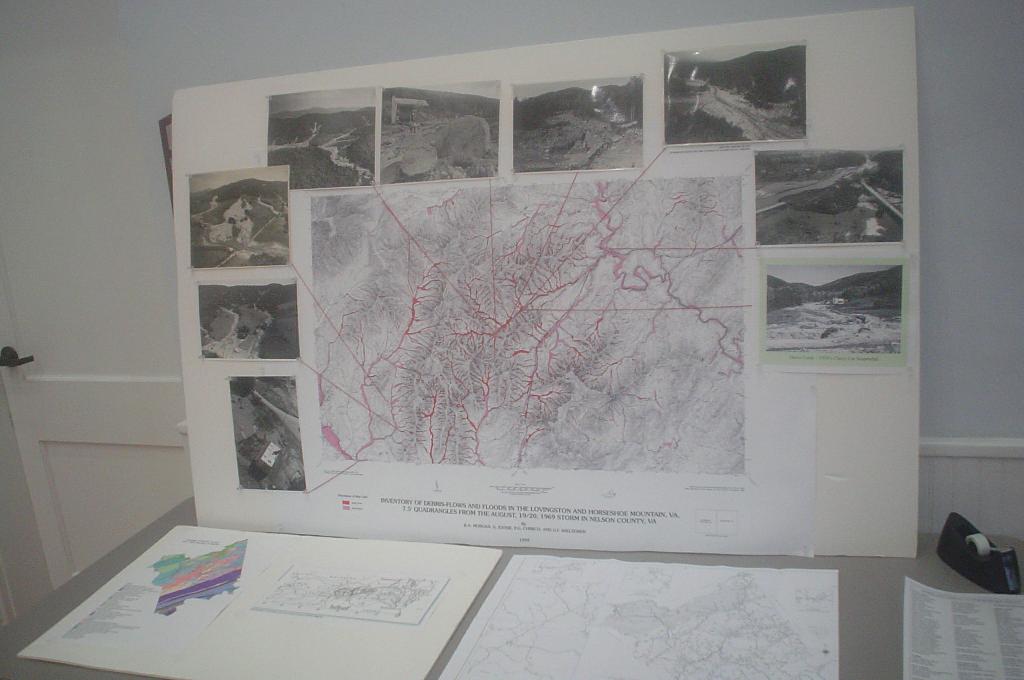 His presentation must have been the reason for the two slide projectors. One displayed a topographic map with actual flood paths in red of the Lovingston to Woods Mill area, Davis Creek and Rockfish River. The other displayed closeups— actual photos of the devastation cross-referenced to the map.
Gathright explained the mechanics of what happened. Because the ground was already saturated from a wet summer, the soil slid off the smooth bedrock on the hillsides. The debris of trees and boulders flowed into the valleys sweeping away everything.
One photo showed a morass of trees that had been shredded by the churning. Gathright pointed out, what you can't see is the bodies mixed in.
Nobody knows how much it rained the night of August 19-20, 1969, because all outdoor containers were filled. At one place 31 inches fell—before the barrel overflowed.
Ed Tinsley was a state trooper and assigned to emergency rescue and recovery in Nelson. A few days into the aftermath, he was reassigned from the field to operations dispatch. Though disappointed, as dispatcher Tinsley became a witness to every detail as he relayed communications.
He kept a sporadic reel-to-reel audio journal because he wanted to record some of the history and his reactions. Over the years, because of the enduring significance of the event, he made a few copies. Today the original tape has been lost but one tape copy remains and the content is now on compact disc. Some journal entries were transcribed and published in a Lynchburg newspaper in 1989.
Tinsley stressed the importance of making copies and sharing the records with others so the history can survive and be of interest to future generations.
Judith A. Howard talked about the emotional and spiritual side of the story. She is co-author of Category 5: The Story of Camille – Lessons Unlearned from America's Most Violent Hurricane.
The clinical social worker and psychotherapist in Ruston, Louisiana, said the effects on people last far longer than the disaster itself. She cited studies that show 3 of 4 survivors of the 9/11 attack continue to be affected, from being on edge to depression to more serious issues.
Since Hurricane Katrina last year, the suicide rate has tripled in New Orleans, said Howard. Another study post-Hurricane Andrew indicated the more you talk about it, the easier it is to move on with your life. She referred to a slogan of the 12-Step program: if you can name it, you can tame it.
The final segment of the program comprised excerpts from three oral histories. Oakland Oral History Program Coordinator, Erin Hughey-Commers, pointed out that the first excerpt was from a lady who had never been asked to tell her story until now.
The lady remembered hearing thunder all night but learned the next morning that it was the sound of boulders crushing everything in their path. It rained so hard water came down the chimneys and leaked throughout the house.
Another lady and her husband returned home after the flood but moved away a week later because of the stench of decomposing animal and human bodies.
There are other witnesses to the havoc of Hurricane Camille. The Nelson County Historical Society hopes you will share them so the story and its lessons are not swept away from memory.
2005 Season is most active on record.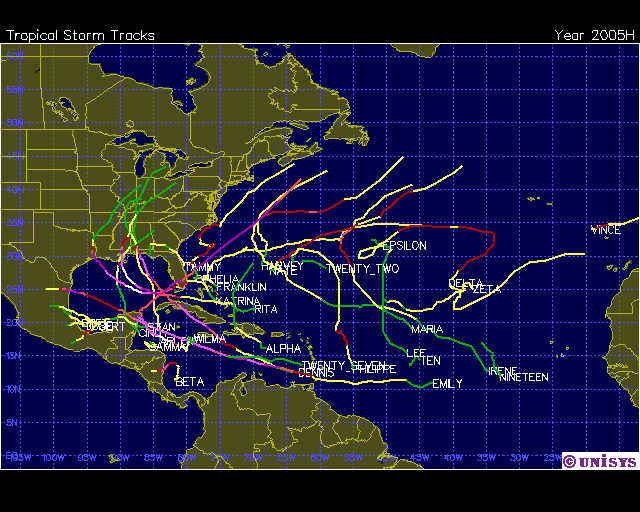 ---
Blair Hawkins | Charlottesville, Virginia | healingcharlottesville@yahoo.com | Résumé | Top