Court Square Slave Auction Block Charlottesville. Oct. 16, 2016. 25 Photos. (Jun. 20, 2017)
"A southern snow brought out for an hour some black lettering through the paint..." BENSON AND BRO. AUCTION ROOMS right over the 18x15x80 inch auction block removed between 1906 and 1925 "by some employees of the city, when cleaning the streets or paving this section." The 1820 sale of this lot is written onto the 1818 plat.
"At some later period, traditions of the slave trade gathered about this house." This area was a hangout "on court-day" for the big 3 founding fathers, Thomas Jefferson, James Madison, James Monroe. They were slave-holders. They were also lawyers. The library was next door, holdings gone to the YMCA, tavern and hotel on both sides, the Swan and the Eagle.
The 1942 book is Early Charlottesville: Recollections of James Alexander 1828–1874 by Albemarle County Historical Society formed in 1940. The book is researched, footnoted and indexed by Mary Rawlings. James Alexander was born in Boston in 1804 and came to Charlottesville 1828 to preserve the works of Jefferson. Alexander became a southerner and supported secession. Both his sons died in the Civil War, and three daughters survive.
The book is full of stories and anecdotes. There's a murder mystery next door when the Swan owner is killed and thrown down the well. An investigation revealed no clues. In 1832 the Swan collapsed while people thought it was an earthquake.
On the map west of the courthouse is a row of stores, which became Stonewall Jackson Park. One of those parcels was owned by John West, whose parents were the Gibbons slaves of a professor, name of the latest new Dorms on Alderman. John West, 1849 to 1927, developed Vinegar Hill after the Civil War, had many real estate holdings, and sold the Court Square lot knowing it was for a Confederate Park.
(During the Golden Age of Race Relations, people read about racial strife everyday in the newspaper. The 1909 Confederate Soldier caused no problems. But a new racial fervor followed the Hollywood film "Birth of a Nation" 1915. Lee Park, first of the City park system, was 1917. NAACP 1918. Klan 1921. Lee statue installed 1924. So, if John West had known the future, he might not have sold his portion for Jackson Park.)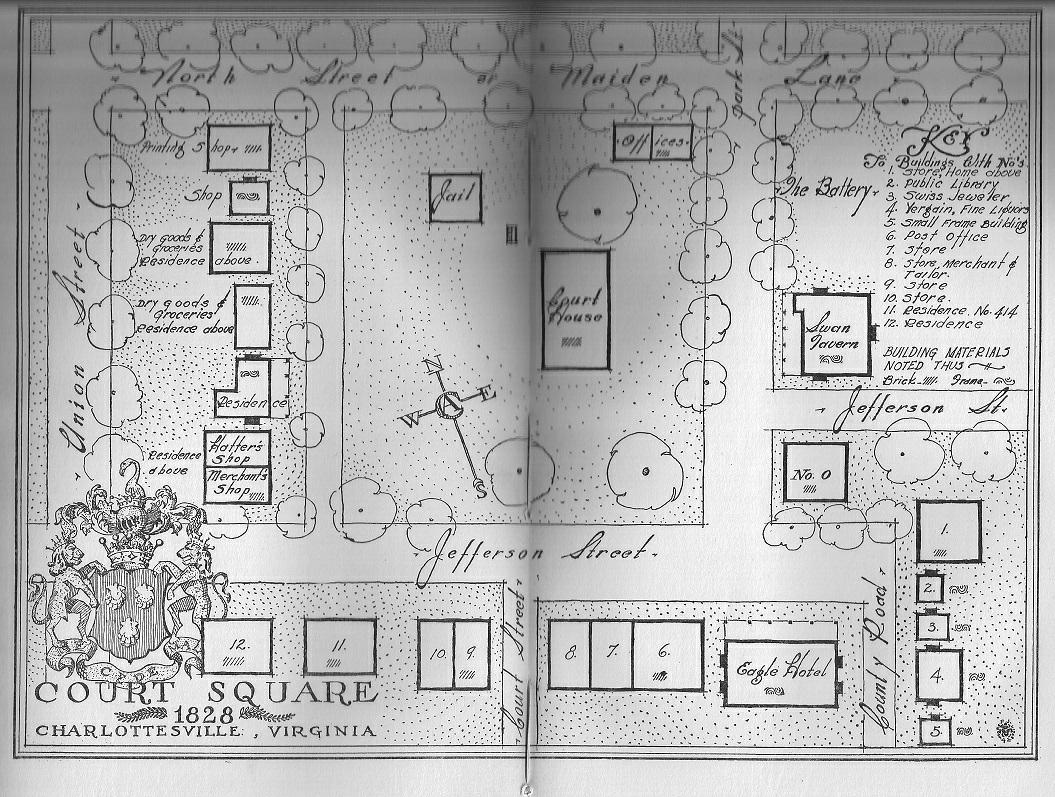 Number Nothing: Early Black History in Charlottesville
This building was erected as a mercantile store in the early 1820s for John R. Jones and Samuel Leiteh Jr., but it never received a proper address. A stone block that once sat outside the building's soutwest corner was used for auctioning both goods and slaves until slavery was abolished in 1865. Prior to 1865 slaves too shopped along Court Square on Sunday mornings. Of the approximate 20,000 people living in Albemarle County in 1830, slightly more than half were black, and all but about 400 of these were enslaved. Most free blacks became so before 1807 when it became illegal in Virginia to emancipate slaves without moving them out of the state. Some blacks had gained their freedom by serving in Virginia's integrated regiments during the American Revolution. Black soldiers from Albemarle included Shadrack Battles, Sherard Goings, David Barnett, Stephen Bowles, Peter Hartless, and Johnson Smith. Battles, half black and half Native American, worked after the war as a carpenter and landscaper around Court Square. Goings' wife Susannah was highly respected in the community.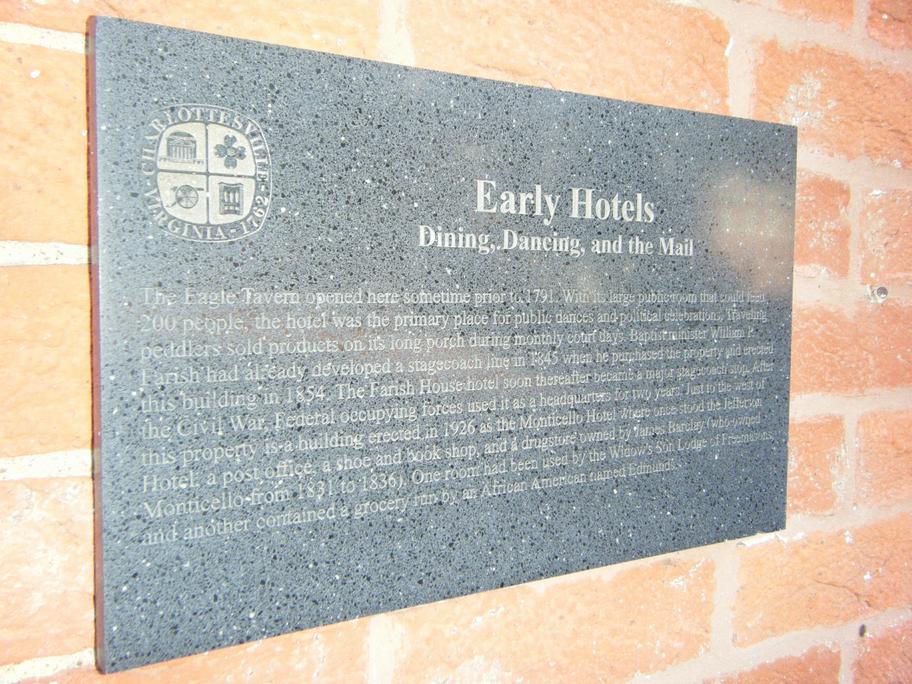 Early Hotels: Dining, Dancing, and the Mail
(Monticello Hotel)
The Eagle Tavern opened here sometime prior to 1791. With its large public room that could feed 200 people, the hotel was the primary place for public dances and political celebrations. Traveling peddlers sold products on its long porch during monthly court days. Baptist minister William P. Farish had already developed a stagecoach line in 1845 when he purchased the property and erected this building in 1854. The Farish House hotel soon thereafter became a major stagecoach stop. After the Civil War, Federal occupying forces used it as a headquarters for two years. Just to the west of this property is a building erected in 1926 as the Monticello Hotel where once stood the Jefferson Hotel, a post office, a shoe and book shop, and a drugstore owned by James Barclay (who owned Monticello from 1831 to 1836). One room had been used by the Widow's Son Lodge of Freemasons, and another contained a grocery run by an African American named Edmunds.
---
Blair Hawkins | Charlottesville, Virginia | healingcharlottesville@yahoo.com | Résumé | Top